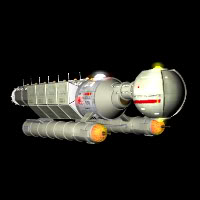 TM:379260-1
STARFLEET TECHNICAL ORDER
AUTHENTICATED STARDATE 6922.8
TO:01:03:26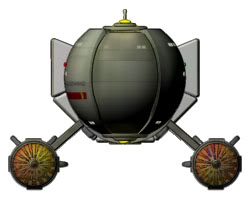 BALLARD CLASS CARGO CARRIER
EARLY DEEP SPACE TRANSPORT VESSEL
PARTICULARS:
CREW 33
CARGO 100 kT
WEIGHT 30 kT
STD. RANGE 1 YEAR AT W/F 4
MAX. SAFE CRUISING SPEED W/F 4
EMERGENCY SPEED W/F 4.5
LENGTH OVERALL 121 m
BREADTH OVERALL 48 m
HEIGHT OVERALL 40 m
EMBARKED CRAFT 1 HSM
SEE BOOKLET OF GENERAL PLANS FOR DETAILS
I always thought it would be fun to imagine that the next thing to come after Matt Jeffries' DY100 design might be Daedalus derived. I created this design and named it in homage to the late J.G. Ballard, mostly because of the cognitive dissonance, which I thought might amuse him.
On Drexfiles, you can see a ship John Eaves designed for Enterprise. His angular and modular design seems to combine the modular backbone of the DY100 with design features from The Animated Series such as the front end of the Huron.